Plants
ROKI TECHNO values quality most because quality is directly connected to our customers' satisfaction.
As part of our efforts to enhance our quality, we have obtained the ISO 9001 quality management system certification for all of our plants.
We are striving to continuously improve our products to swiftly meet diverse customer needs.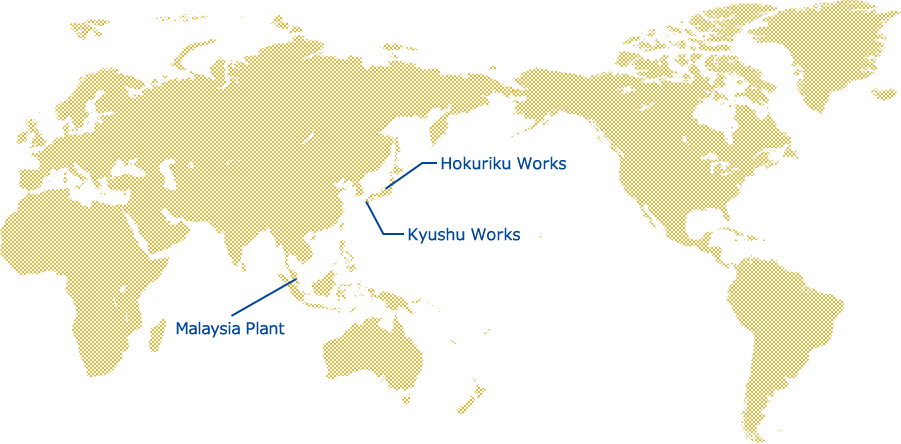 Hokuriku Works Map
In 1984, the Hokuriku Plant was established in Kamiichi-machi, Toyama, as the only plant to conduct integrated production of winning filter cartridges.
In 2020, the Hokuriku Works was newly established in Namerikawa City, Toyama, as a production base that combines a clean production environment with research and development functions.
The Hokuriku Plant was renamed the Hieda Production Department and integrated into the Hokuriku Works.
The Hokuriku Works produces filter cartridges for all industries and accelerates product development and mass production of new products.
Kyushu Works Map
Established in 1990 to produce high-precision filter cartridges used for the production of deionized water, pharmaceuticals, and the like, the Kyushu Works is equipped with the latest production facilities and is in pursuit of advanced technologies continuously to offer high-precision filter cartridges for sterilization and other applications.
Malaysia Plant Map
Put into commission in 2014, the Malaysia Plant manufactures filter cartridges used in the production of food and beverages, which are halal-certified by Jabatan Kemajuan Islam Malaysia (JAKIM), a government-controlled halal certification body in Malaysia.