Small-quantity Filtration Products
ROKI TECHNO's industry experience enables us to provide an optimum filtration solutions and systems for customer's specific process.
ROKI TECHNO is working closely with customers and will continue to improve filtration solutions by providing:
Evaluation of filters, such as removal efficiency; differential pressure vs. flow rate; extractable testing.
Start-up product support; from scale-up through manufacturing expansion.
Reduced filter change-out frequency, product loss and disposal costs.
Compact filtration systems and design flexibility to meet most installation requirements.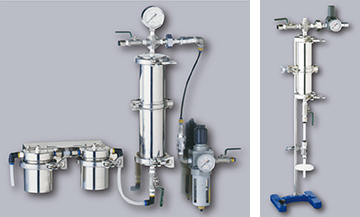 We can modify most of our filter equipment with a range of additions. These including customization of filter housing, pressure feeding method (air, pump), tank (with or without heating jacket), pressure gauge, electrical controls, caster etc.